Insights from the UK - 2022
The results of this year's FSC UK Consumer Survey reveal public opinion on forests and climate change, FSC logo recognition, generational differences, and a degree of uncertainty around which kinds of products can come from trees.
Three quarters of people in the UK agree that healthy forests are of crucial importance in the fight against climate change.
And ensuring that products from forests have been sourced responsibly is important to most, with 63% wanting reassurance about the forest products they buy. A study of 1,281 adults* found that 6 in 10 people in the UK assume that some, or even all, of the wood-based products they buy are from sustainable sources.
Three quarters recognise that sourcing sustainable wood and paper is good for both forests and the planet in general, but most aren't sure how to tell if these products are sustainable.
There's also uncertainty when it comes to other forest-products, with 87% unaware that viscose and textiles, and 73% unaware that shoe soles (which can be made from natural rubber), can be sourced from trees. And yet, three quarters say they think natural rubber and materials made from trees, such as viscose, should be responsibly sourced.

6 in 10 also reported becoming more conscious of the sustainability of both products and packaging. And 35% say they keep an eye out for certification labels when shopping for forest-based products.
76% of people in the UK now recognise the FSC logo. Two thirds of respondents who had seen the logo are also confident they understand, at least roughly, what it means.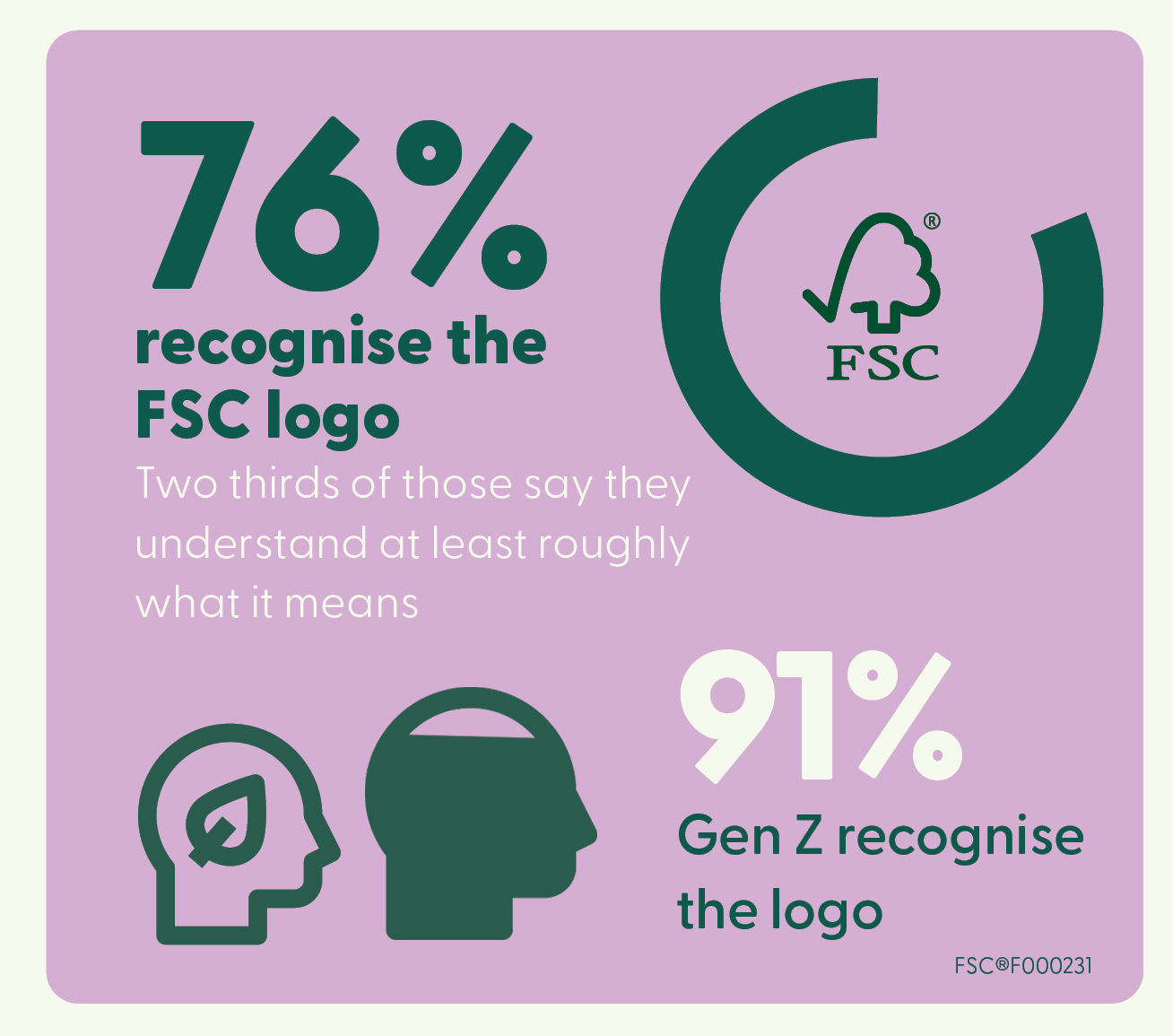 Once the meaning was explained, 7 in 10 people said they would prefer to buy a forest product bearing the FSC logo, as opposed to one without, only 1 in 10 stated that this was unlikely to positively influence their purchasing decision. Half of respondents even said they would be prepared to pay more for FSC-certified products and 65% said they would have a positive opinion of a brand or retailer if they saw the FSC label on their products.
Ecosystem Services
The survey also reveals findings on how shoppers might view brands and companies  investing in ecosystem services (the benefits that we obtain from nature and natural processes).  
63% of people in the UK say they would have a more positive opinion of a company if they knew they had invested in nature or climate-positive projects. The FSC Ecosystem Services Procedure builds on FSC forest management certification by allowing forest managers or owners to make specific, credible claims on how their management activities are contributing to maintaining and/or enhancing various ecosystem services in their forests.FSC verified ecosystem service claims help financial sponsors demonstrate their commitment to sustainability and to reducing deforestation and forest degradation.
Generations of consumers
The survey revealed some generational differences, with older people, including the at times maligned Baby Boomers, most concerned about whether forest-based products have been sourced sustainably, and most convinced of the importance of sourcing sustainable wood and paper.
But younger people tend to be more confident in identifying sustainably sourced forest products, with 3 in 10 millennials sure of how to tell.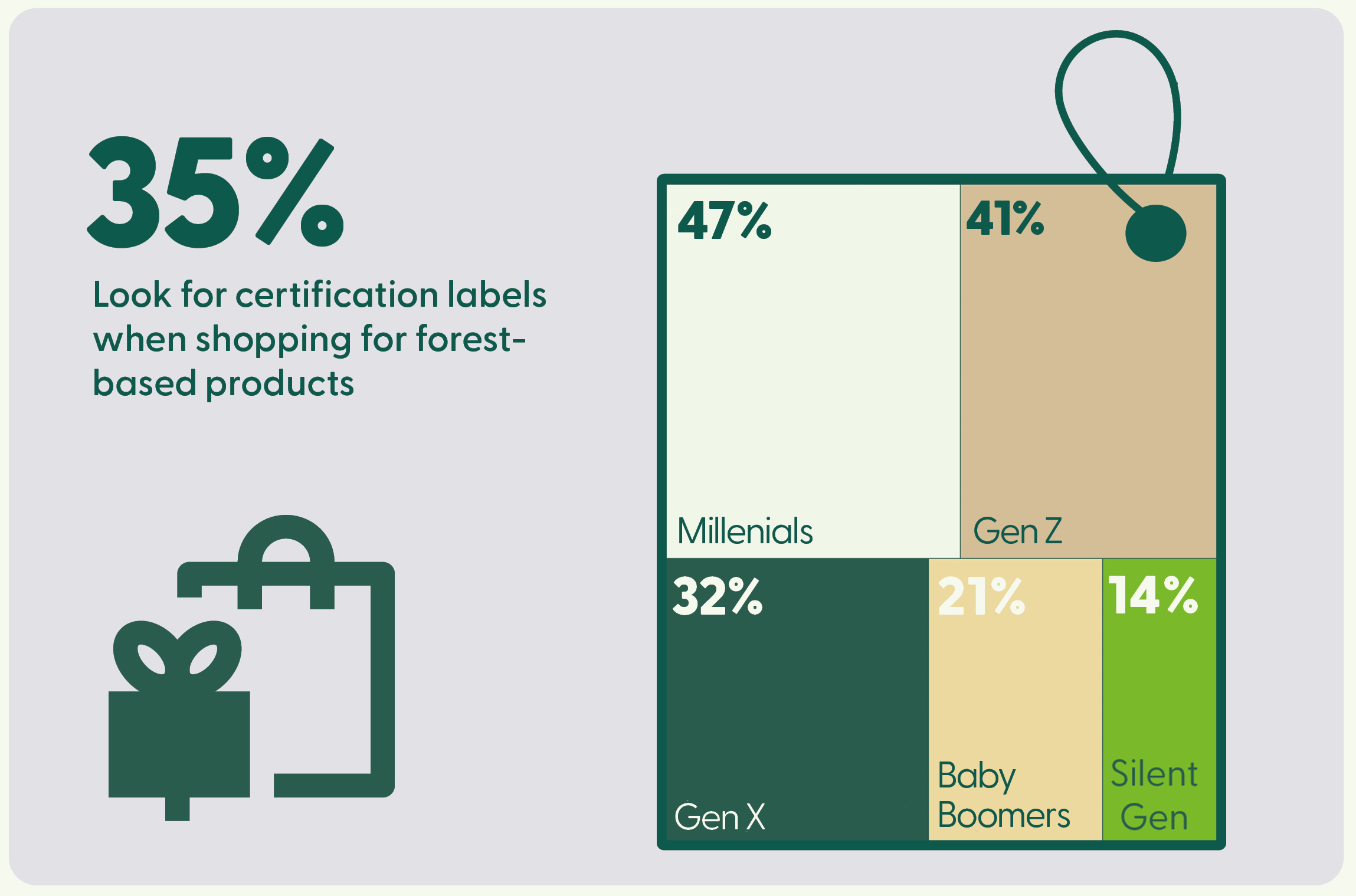 Millennials are also most clued up about viscose, but still just 15% realise that it could be sourced from trees. When it comes to shoe soles, Gen Z lead the pack, with 3 in 10 identifying that they can be made using materials from trees. Nearly half of those aged 25-34 keep an eye out for certification labels when shopping for forest-based products and 91% of Gen Z recognise the FSC logo.
* Survey conducted (24/03/2022 - 28/03/2022) in United Kingdom by Kantar via OnLineBus, a sample of 1281 UK adults aged 16+ were interviewed.
Awareness in the UK

Our 2021 consumer survey found that most consumers are aware of the potential impacts of their purchases, including impacts to the environment, people in developing countries, and the risk of mass deforestation.
But despite many expecting items such as DIY timber (50%), cardboard packaging (61%), toilet rolls (55%), and garden furniture (45%) to be sourced responsibly, 70% of surveyed consumers are unsure how to tell if this is true of the products they buy.
The top 3 products respondents stated they had bought or received in FSC-certified packaging were drinks (21%), food (19%), and online purchases (18%).
Lack of knowledge of what products come from forests could be standing in the way of informed purchasing decisions. 70% of consumers are unaware that rubber products such as gloves, tyres and shoe soles can be sourced from trees, and 84% are unaware that viscose clothing could be derived from wood pulp.
Looking for the FSC logo on products helps consumers to make sustainable shopping choices. FSC certification provides an assurance not just of legality but also of responsible management.
Our 2021 survey found that 73% of adults in the UK recognise the FSC logo, which has increased from 67% in 2020, and 55% in 2019. 37% of those who recognise the logo state that they always or often choose FSC-certified products, and a third recall purchasing an FSC-certified product in the last 3 months.
"It is positive that recognition of the FSC logo is continuing to increase, as it can be nigh on impossible to tell just by looking at a piece of furniture, or a greeting card, where that wood used originally came from. But if the product has an FSC label, it means it is made with materials that support responsible forestry."
Rosie Teasdale, Executive Director, FSC UK
Global consumer awareness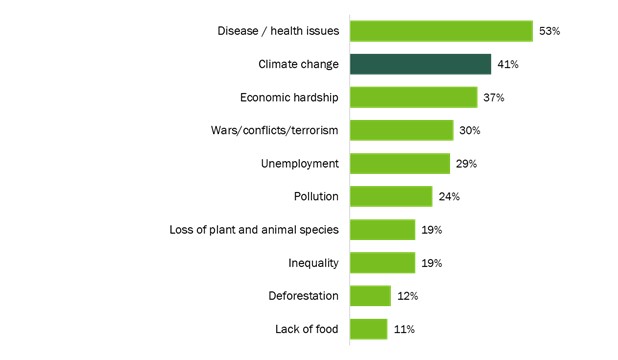 FSC's 2021 global research reveals that consumers want to make sustainability-focused purchasing decisions and trusted third party certification labels play an increasingly important role.
According to research, conducted by GlobeScan for the Forest Stewardship Council (FSC) with 12,000 participants across 15 countries(1.), consumers list climate change as their second most important global worry. When compared against the previous 2017 study, this concern is significantly up (see figure 1). Understandably, disease/health issues ranked first in the research, although the comparable level of concern about climate change sends a stark message in terms of urgency to act. For forests specifically, the research found increasing concerns about the loss of plant and animal species and the impact of deforestation on climate change (see figures 1-2 for more information).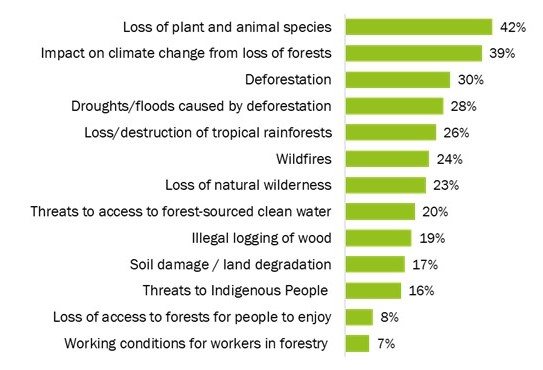 Consumers' sustainability concerns also appear to increasingly influence their shopping choices, with more than 80 per cent of shoppers saying they expect companies to ensure their wood and paper products do not contribute to deforestation.
Additionally, the survey found that 86 per cent of consumers try to avoid products that damage biodiversity and about seven in ten want to choose products that do not contribute to climate change. As such, consumers pay attention to these factors when choosing wood-based products and packaging and expect companies to ensure their products do not harm the environment.
When asked about influences on their purchases of wooden products, protecting animals and plants and sourcing from sustainably managed forests were among consumers' biggest motivators - nearly on par with product quality; while for paper or card products, these motivators were even higher than product quality (see figure 3 for more information).  Consumers' belief in their own potential impact is also growing.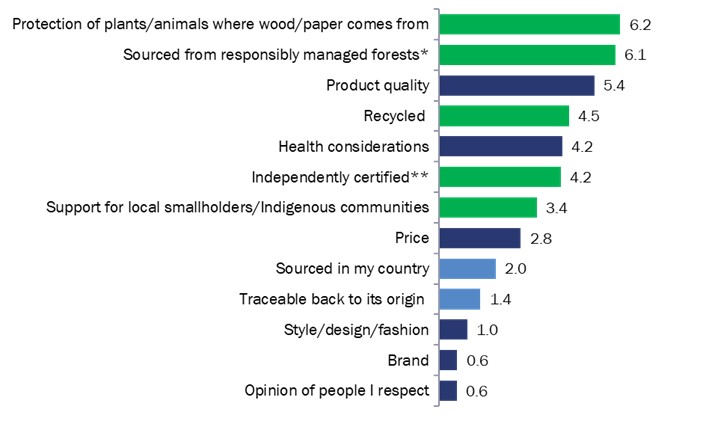 Independent certification also influences product choice among shoppers, with nearly eight in ten consumers believing sustainability product information should be certified by an independent organisation. These results show that the need for trusted eco-labels has never been greater. There is a steep upward trend in people's interest in companies' social and environmental impact; therefore, the opportunity for eco-labels is growing, highlighting the value that brands can gain from partnering with trusted certification systems.
(1.) Consumers were surveyed in Canada, Chile, Colombia, China, Germany, India, Italy, Mexico, Poland, South Africa, South Korea, Sweden, Turkey, UK and USA.
(2.) Tracking based on 8 out of the 15 countries base=6,413 (2017) base=6,400 (2021). Tracking countries were Canada, China, Germany, India, Italy, South Africa, UK and USA.
You also may be interested in