Forests and fashion
FSC's Fashion Forever Green Pact builds on efforts by stakeholders in the sustainability space, such as the CanopyStyle Initiative. The Pact is a call to immediate action for the fashion industry - brands, retailers and manufacturers alike - to adopt responsible sourcing in support of the world's forests.
FSC in Fashion
Although they make up less than 7% of the global fibre market, the production volume of  forest-based textile materials more than doubled between 1990 and 2018, and their use is expected to increase. And the industry's dependence on forests doesn't stop at fibres - in 2017, over 11 million tonnes of natural rubber was harvested - consumption is expected to reach 19 million tonnes by 2025.
Whether fitting out new premises, specifying forest-based materials in products, choosing forest-based packaging or producing marketing materials, there is often an FSC-certified solution available.
This document is intended to be used as an introduction to FSC for organisations in the fashion sector who are FSC certified and for those who are considering becoming FSC certified, specifying FSC-certified products or working on behalf of an FSC-certified organisation.
Trailblazers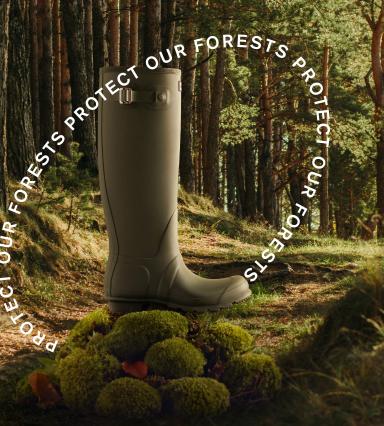 Hunter Boots
Heritage-brand sourcing rubber sustainably
For British heritage-brand, Hunter, natural rubber, from the sap of rubber trees, is its most important raw material. Hunter launched its first FSC-certified boots, FSC-certified iterations of its iconic, 100% waterproof Original Tall and Original Short Wellington boot, in 2020. This FSC-certified collection forms part of Hunter's wider Hunter Protect strategy, which includes a commitment to ensure all Hunter rubber footwear is certified by 2025.
Hunter is committed to sourcing all products responsibly and sustainably. This means ensuring safe and fair working conditions and reducing the brand's carbon footprint. Protecting the world and upholding human and labour rights is essential to Hunter's future strategy.
Hunter hold an FSC promotional licence and source from FSC-certified suppliers.
Masai
Danish fashion brand launches FSC-certified clothing
In 2019 Masai became the first ever Danish fashion brand to gain FSC certification. 
It is one thing for Masai's paper goods to be FSC certified, but the fact that the brand's wood-based textiles are now also certified is such a significant achievement in the brand's overall sustainability and CSR strategy because large parts of Masai's collections are made from wood-based viscose fibres.
Their first FSC-certified collection launched in 2020, and they are aiming to FSC-certify all of their viscose by 2025.
Masai hold FSC chain of custody certification and source from FSC-certified suppliers.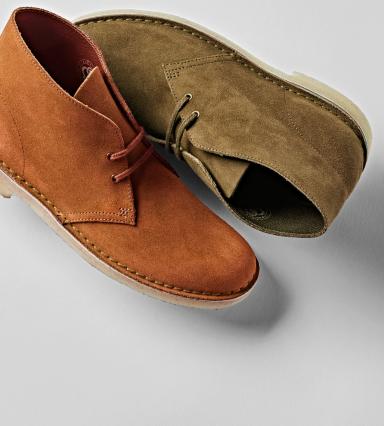 Clarks
FSC certification: a natural way of ensuring suppliers share our sustainability ambitions
Natural rubber is a core material for Clarks Originals, and Clarks use crepe rubber to sole some of their most iconic products, including their Desert Boot. The characteristics of this natural, renewable material help to make their products unique and recognisable.
After nearly two years of working with their internal teams, increasing the visibility of their material supply chain and partnering with their suppliers to attain FSC chain of custody certification, Clarks launched their first Desert Boots with FSC-certified rubber soles in 2020. They have plans to increase their use of FSC-certified rubber in their crepe soled products for the coming seasons.
Clarks hold an FSC promotional licence and source from FSC-certified suppliers.
You also may be interested in