The world's most trusted sustainable forest management solution
FSC forest management certification confirms that the forest is being managed in a way that preserves biological diversity and benefits the lives of local people and workers, while ensuring it sustains economic viability. FSC-certified forests are managed to strict environmental, social and economic standards. There are ten principles that any forest operation must adhere to before it can receive FSC forest management certification. These principles cover a broad range of issues, from maintaining high conservation values to community relations and workers' rights, as well as monitoring the environmental and social impacts of the forest management.
Supply chain integrity
FSC chain of custody certification verifies that FSC-certified material has been identified and separated from non-certified and uncontrolled material as it makes its way along the supply chain, from the forest to the market.
Any company involved in the processing or transformation of FSC-certified products (e.g. manufacturing, repackaging, pack-splitting, relabelling, cutting to size or adding other forest-based components to the product) must be FSC certified in order to apply an FSC label to their products and/or sell them with an FSC claim.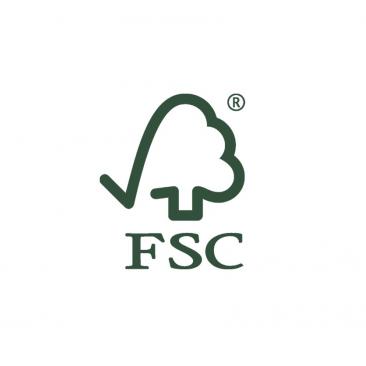 Trademarks and labels
FSC owns five registered trademarks: the name "Forest Stewardship Council", the abbreviation "FSC", the FSC'tick-tree' logo and the full and text-only 'Forests For All Forever' brandmarks. The FSC trademarks can be used by FSC certificate holders and FSC promotional licence holders. They can also be used for educational and research purposes and by the media.
FSC's tick-tree logo is a key part of the FSC labels, which can be found on millions of products and items of packaging around the world.
We are FSC
FSC is a global network of members, staff, certificate holders, promotional licence holders and responsible consumers. By working together we can help to ensure that we use forests and forest products responsibly, shifting the global forest trend towards sustainable use, conservation, restoration, and respect for all.
You also may be interested in