The evolution of the Wellington Boot
The original Wellington boot was designed by the 1st Duke of Wellington, Arthur Wellesley in the early 1800s, originally they were a type of military riding boot made from leather. The name was subsequently given to rubber waterproof boots in the 1850s, when Hiram Hutchinson met Charles Goodyear, who had just invented the sulphur vulcanisation process for natural rubber. Hutchinson bought the patent to manufacture rubber boots and set up a business in France. Up until then, most of the population of France had been working in the fields in wooden clogs so the introduction of waterproof Wellington boots was a big hit. These days, wellies are used by pretty much everyone who works or spends time outdoors. However, not many of them are made from rubber anymore. They're mostly made from PVC now, but PVC is derived from oil, is non-biodegradable and can't be recycled.  So, are there any eco-friendly alternatives out there?
Wellies made from sustainably sourced materials
Wellies can still be made from natural rubber, also known as latex. Natural rubber is waterproof, durable and, unlike fossil fuel derived alternatives, natural rubber is a renewable resource and it is biodegradable. Natural rubber is harvested (tapped) from rubber trees, which grow primarily in South East Asia. It is used in many items of our daily lives, including shoes, tyres, footballs, condoms and even medical products, such as gloves.
Although it is an environmentally friendly choice, when natural rubber comes from uncertified forests, there is a risk that it contributes to deforestation, human rights abuses and unfair terms of trade with smallholders. FSC has been on a quest to address these issues and is a founding member of the Global Platform for Sustainable Natural Rubber. FSC-certification verifies that the rubber in a product has been sourced sustainably to prevent deforestation, protect biodiversity and ensures that the companies at every step of the supply chain are committed to improving the lives of smallholders and local communities.
Find out more about FSC-certified rubber
Where can I buy FSC-certified wellies in the UK?
There are a few companies in the UK who make their wellies from FSC-certified natural rubber: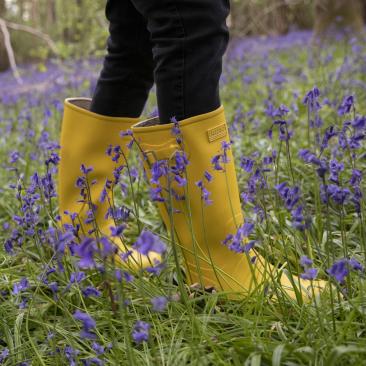 Lakeland Footwear
Lakeland Footwear (FSC-C009557) make rubber wellington boots which are created to withstand the rugged terrains of the rolling hills of the UK and beyond. At the centre of its focus is the classic British inspired design combined with meeting the expectations of the adventurer who sports them, be it at the farmyard or festival.
Lakeland Footwear have a big focus on sustainable sourcing and production. All of their wellies are made from FSC-certified rubber which is sustainably produced in Sri Lanka, helping to support rubber farming communities across the island. Their wellies are also vegan, cruelty free, completely waterproof and have an organic cotton lining to make them extra comfortable for long walks.
The Lakeland Tall Wellington Boots were awarded a BBC Gardener's World Best Buy for sustainability.
You can find Lakeland Footwear's wellies here
Hunter Boots
British heritage-brand, Hunter (FSC-N003379), also sell wellies which protect you from the elements whilst helping to protect the planet. Hunter Boots launched their FSC-certified iterations of their iconic, 100% waterproof Original Tall and Original Short Wellington boot, in 2020 using natural, vegan rubber harvested from FSC-certified managed forests in Guatemala.
Hunter is committed to sourcing all products responsibly and sustainably. This means ensuring safe and fair working conditions and reducing the brand's carbon footprint. Hunter has also made a pledge to ensure that all the natural rubber they use will come from FSC-certified forests by 2025. With 125 products in its 2022 collection, it will be its largest sustainable range made with natural rubber gathered from FSC-certified well-managed forests.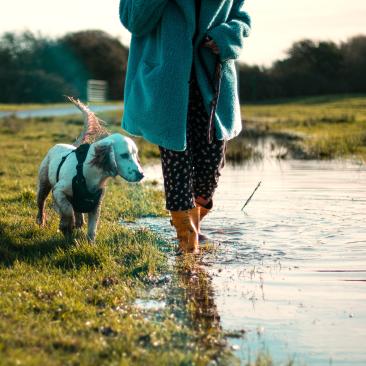 Joules
Joules (FSC-N003985) is a British clothing company which sells clothing and homeware products inspired by the British countryside. From the day they set up shop with nothing more than a painter's table and a tent, they've always been aware of their impact on the environment, the wildlife and the people that inspire them. Joules are on a journey to ensure that all of their key materials are sustainably sourced and produce a range of women's wellies made from FSC-certified natural rubber.
You can find Joules' FSC-certitfied wellies here
You also may be interested in